Who are we?

Two lovers of life, travel, and new flavours that would like to share their little corner of the world with all of those that are interested.  We hope that, with our tips and good-hearted advice, you too can see at least a little glimpse of all of the wonders that the region of Ancona has to offer.  Whether you are looking for adventure, romance, culture, or a new glass of wine, we're willing to share!
If you want to know a little bit more about us…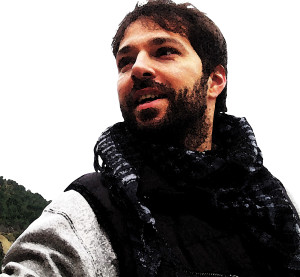 Gregory was born in Ancona, but also has a healthy dose of Belgian blood in him and a free, European soul.  He loves meeting people and helping out wandering travelers.
"…Gregory is a whirlwind of positive energy. From his infectious smile to   his completely honest nature, you cannot help but be happy in his presence." Tabitha Halfmann (USA)
        "…Gregory is amazing! Very positive and fun to be around, always up for an adventure" . Daisy Connor (USA)
        "…he is open-hearted and open-minded about traveling and his childlike wonderment and excitement is refreshing."  Dee Bryant (USA)
        "…just wonder if this huge sleeping bag caterpillar will soon transform into a huge butterfly!" Lieke, Peter and kids (Belgium)
"…where do you start after you fall in love with someone? From hitting the pavement all over Antwerp, playing music in the living room and staying up all night laughing, it was one of those times you wish would never end."  Kole Hansen (USA)
        "…what impressed me most during my stay in Ancona is not any sight but Gregory! He's awesome and seemed that he knew everyone in every corner of the town."  Tian Chan  (China)
Julia is from Germany, and thrives on putting on her little red backpack and walking through all of the unmarked paths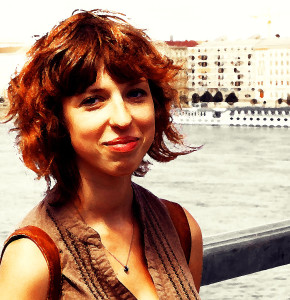 of the world.  With her Polish background, she tries to capture all of the gypsy colors of the world through words and art.
[her latest art project can be found at 25 Canvases and some of her other rambles and travels are at Elefantini]
"…she really is an artist and so talented as well." Serkan Yazici (Turkey)
"…I couldn't forget her confused face when she saw the table with full of Turkish delights". Vedat Akses (Turkey)
"…Julia was my first host and I can tell you that she not only brought in my house a lot of chocolate but a lot of life too : ) She's a very interesting person and it was a pleasure to talk with her about music, art…" Grégory Barborini (France)
"…she is amazingly positive and always smiling (well almost but she had circumstances : )" Fabien Soulier (France)
"…Julia is sweet, bright and brave yang lady!" Milena Skaloudova (Scotland)
Let the adventures continue!