RESTAURANTS:

Via Oberdan,2/2°, Tel:  071 56748
Most special for us is Osteria Teatro Strabacco, a restaurant that offer typical Italian food in the middle of the city center; but hidden enough so that it's not crowded and frequented only by those that know of it's existence (now you know, so, go!).
The quality of dishes leaving the kitchen is always superb, and the selection of wines is truly remarkable.  If asked, the oste Danilo Tornifoglia (known as Kiki to friends and native Ancona-ians) will take you downstairs, where you will find an old piano and a wine cellar that is tough to beat when it comes to showcasing the wines of Marche.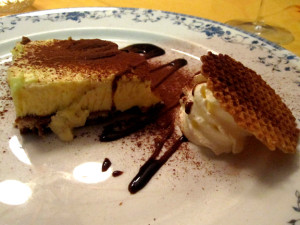 And, is is worth to add, that their tiramisu is the best that I've ever had- and, while traveling the world, I have made an effort to try my favorite dessert every time that the opportunity presented itself.
Mazzini 61, tel 071 203408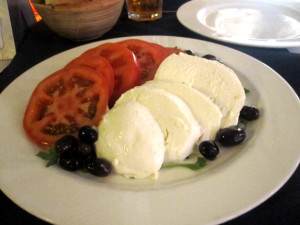 Gregory and Julia had their first meal together at Rosa.  After being in Italy for a couple of weeks and still not having had her much-beloved insalata caprese, Julia finally got to satisfy her craving while Gregory introduced her to the wonder of antipasti di pesce; a heaping plate of crab legs, shrimp, mussels, clams, sardines, and a vast assortment of other sea critters.  Learn early: while pesce translates to 'fish', if you say that you're craving some pesce at dinner, you will end up with sealife in hard shells.  Apparently, pesce also means 'seafood'.
Regardless, this ristorante is just a couple of steps away from Piazza Roma, so stop by if you're around.  And, after dinner, why don't you top off the night with a refreshing sorbetto?
______________________________________________________________________________________________
 CAFFE'S:
Caffè Roma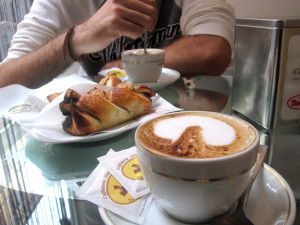 Piazza Roma 10, tel: 071 53047
If you wake up on a sunny morning and you would like a good cappuccino with some sweet pastarella or salty pasta salata, then head to Caffè Roma, where Yuri, Francesca, and Antonio will satisfy all of your cravings with their vast selection of pastries and excellent coffee.  Right in the city center, you can sit outside and people-watch to your heart's delight.  Or come find us inside; Gregory will be enjoying his Beberone (or, a big, big, big cappuccino) and a treccia al gianduia, while Julia will try to cover her past-8-AM cappuccino behind the day's paper.
______________________________________________________________________________________________
GELATERIAS:
Via XXV Aprile, 28  tel: 071 56657
You're in Italy, so gelato will doubtlessly become the staple of your diet.  For the best gelato in Ancona (which just conveniently happens to be right under our flat), go to Gelato Più.  Rotating tastes, ice cream cakes, milkshakes… you really can't go wrong with any of it.  Yum!