One of the restaurants lining Via del Golfo, Giulia Mare was chosen as our lunch stop due to its snazzy design and name (after all, anything with Italian Julia's in it can't be too bad).  Good choice, overall.
Giulia Mare is technically on the beach strand, but on the "city" side of the road.  Thus, you can still watch the herds of bathing suit-clad people stroll by and the line of the sea in the distance, but you are separated from the sand (or, pebbles) by the main street along the Numana beach.  The perpetual roar of passing motors would by my only real criticism of this abode; especially in the outside patio, it's difficult to hold a conversation with a constant stream of scooters whizzing past on the other side of the low hedge.  Once moving inside though, the noise subsided and I enjoyed the experience.  Walls made up of huge windows; kind of like an aquarium, almost.
The cuisine is simple: seafood.  Especially for popular seaside towns, portions were big and prices not expensive.  After an antipasto misto di pesce and a shared pasta dish, we were both pretty full.  Service was swift and professional, and she answered my indecision with a list of tasty suggestions (and a lot of time for deciding).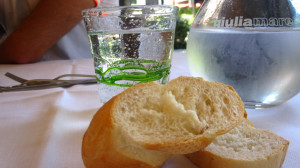 The main draw of the place, at least for me, is its design.  Neo-architecture, simplicity, minimalism, glass and the color green.  A nice change of environment from the old, sepia stone houses that host most things in Italy .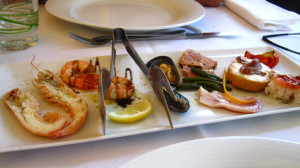 Nice atmosphere, clean place, good-sized portions, and fresh food.  If you're looking for a meal on the summertime Numana strand (near the port, in transition between Numana and Marcelli) this place gets out vote.  Simple, but with taste (both for the eyes and the mouth).
Giulia Mare
Via del Golfo 5
Numana
tel: 071 7360192