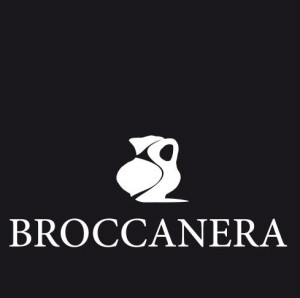 Rolling around the windy hills of terrains unknown to us, in search of a little village named Piticchio, we took a turn toward Montale, almost calling defeat and consulting the map we stole from our bed-and-breakfast (we returned it, all intact, no worries).  But, before we could look down at the map, we saw a sign pointing to the left, advertising a vignetto.  We exchanged a glance, and, without a word, turned the car in that direction.  Who can pass up a vineyard, especially in the land of verdicchio?  Not us.
Mid-December, mid-afternoon: it was deserted as we pulled into the parking lot.  But, Gregory has no fear, and knocked on the door.  "Prego, entrate!" was the response, from somewhere deep within.  We didn't hesitate and jumped out of the cold.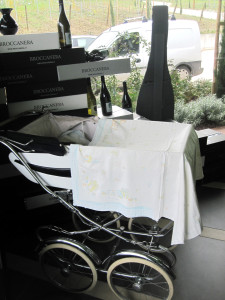 Taking a break from putting together dozens of Christmas baskets, the master of the vineyard welcomed us properly and asked us if we would like a look around.  When we nodded enthusiastically, he pointed down at the floor; we noticed that it is made out of glass, so, we were, in effect, standing directly above their distillery room.  A bit nerve-wracking for those with a fear of heights (same with the long staircase made out of glass, leading down into the cellars), but pretty cool, nonetheless.  We then got a proper tour of the estate, met the owner, and got a detailed explanation of their history, wine varieties, and bottling process.  To top it off, we each got a "sample" of their three wines, each of which consisted of half a wine glass and a bowl of munchies.  We left with out hearts and hands full, and heads pretty light.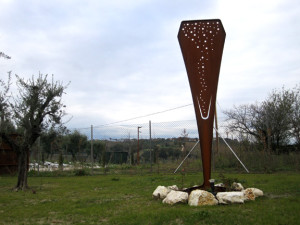 They currently produce two different types of verdicchio: Cantaro and Suprino.  Both are DOC and boast an intriguing palette.  Cantaro is their first wine, and is a little bit lighter in color; it has a strange balance of fruit (especially pear) and the warmth of the earth, all coated with a hint of anise that is particular to this region's land.  The Suprino is a bit easier to sip and carries tastes of lilies and subtle licorice.  They also produce a red (Asco), which is heavier-bodied and brings to mind forests during late summer.  Their oils we did not have an opportunity to taste, but, if they are anything like their wines, they are doubtlessly of a well-balanced and deliciously new palette.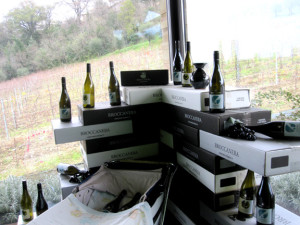 Where tradition of the land and futuristic fantasies of design converge, Broccanera is a vineyard that is at once welcoming and intriguing.  We eagerly await the next batch of wines to be released from the cellars of this vineyard!
Broccanera
Montale (AN)
Tel: 0731 075144