As a seaport city, the port is obviously a big part of Ancona's economy, geography, and orientation.  The first Italian city with an international port, both cargo and cultures have continued to travel for thousands of years (all the way back to 387 B.C); today, it is estimated that around 1,500,000 tourists pass through its harbors annually.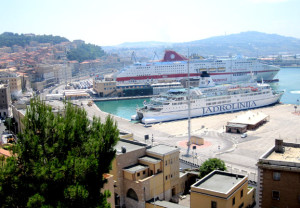 In addition to tourism, merchandise and fish also hold a major part of the port's composition.  As a direct outlet to Eastern Europe, many cargo trucks start their travels out of Italy at this station.  Fishing-wise, Ancona is the second biggest port in the Adriatic sea.  And for a completely different flash of scenery, there is also the Lazzaretto on the southern edge of the porto– a former quarantine station for travelers built upon an artificial island that, today, hosts a variety of entertainment events.
Other than the train station, the port is the only other part of the city that has some kind of activity happening at almost all hours of the day.  There are usually a couple of passenger ferries that leave every day, and the fishermen and truck drivers occupy the rest of the gates.  There are a few caffe's and restaurants along the port, a very primitive public bathroom, and a train station that was meant to connect Ancona Port with Ancona Main Station, but remains mainly unused (except for the roof that provides shelter for the homeless).  Nonetheless, the port is ideally situated for those leaving and arriving to the city; bordering the historic city center on the western side, there is a vast assortment of clothing stores, bookstores, grocery stores, and random souvenier nooks right up the hill.  Thus, it really is not too inconvenient to take a stroll through the city upon arrival on Italian shores…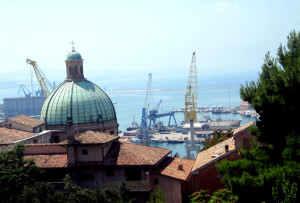 Here is a list of passenger ferry operators out of Ancona (click on name to check current schedule and rates):
– Adria (Durazzo)
– ANEK Superfast Ferries [aka Blue Star Ferries] (Igoumenitsa & Patras)
– Blue Line (Split & Hvar)
– Jadrolinija (Zara, Spalato, & Stari Grad)
– Minoan Lines (Igoumenitsa & Patras)
– Montenegro Lines (Bar)
– SNAV (Spalato)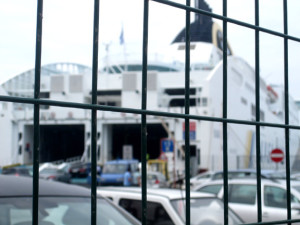 Julia's adventures with Gregory started because she needed a couch in Ancona for the night before leaving for Greece.  So, despite its sprawled layout and contribution to unaesthetic cranes, the Ancona port continues to bring happiness into the lives of those least expecting it.  Go have a look.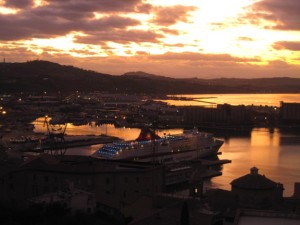 Getting There:
There are clear signs throughout the city pointing toward il porto.  If you need to get to the Ancona Train Station from the port (or visa versa), there are 2.5 km along Via Guglielmo Marconi/Via Flaminia that you can walk in about 15 minutes.  There is also Bus 1/4 right outside of the port (stop at Piazza della Repubblica) and takes about 5-10 minutes to reach the train station.  Taxis are also available: 071 43321.