The Marche region really has it all:  lakes, beaches, mountains, hills, fields, forests… and caves.  The Grotte di Frasassi is the largest karst cave system in the region (the first section of the cave itself could easily fit the Milan Cathedral), and its abundance of water trails results in a vast amount of stalactites and stalagmites.  In other words, this cave is really big and really cool.
Located a few hundred meters outside of Genga is the first stop of the Frasassi experience: parking and ticketing.  Sounds simple, right?  And the actual parking and ticketing portion of that is very simple and straight-forward.  But, there's more!  The ticketing booth is in the middle of a little, primitive plaza filled with dozens of booths bustling with artisan crafts, toys, souvenirs, glass-works, and a vast assembly of interesting creations.  There is also a row of food booths, which sell mouth-watering delicacies from the region (and further).  Both Gregory and Julia suggest the last booth on the left; the old man running the stand is adorable, the focaccia, porchetta, and formaggio col tartufo is delicious, and his apple pie is definitely one-of-a-kind (try it).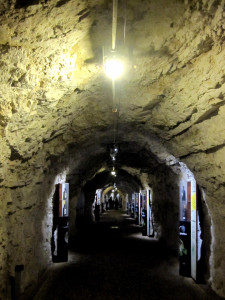 From this little parking terminal (which also offers free public bathrooms- you know that this is a big deal in Europe), everyone that wants to go to the caves takes a bus that rolls around every few minutes.  It's about a three minute ride to the actual cave entrance.  Going inside, you pass through a long tunnel lined with the region's wines (some of the bottles look really old) before the first cavern.  Grotte di Frasassi is comprised of a several smaller 'rooms' of caves, and the typical tour consists of a 20-minute walk through all of its wonders.  The tour guide's presentation is in Italian, but you can pick up an audio guide in several different languages if you wish.
After the tour is done, you can either take the bus back to the ticketing fairgrounds or make the stroll back along the road.  It's an easy walk downhill with some picture moments.  There is a little trail that goes down to the river, a church with a playground, and some little nooks for exploring.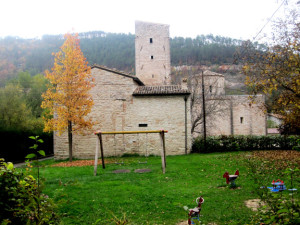 For the more adventurous, there is a more intense level of caving offered (we have yet to try it), in which you get a flashlight attached to your head and poke around some of the darker, tighter corners of the cave system.  There are also package deals and multiple-day excursions available, if you would like to explore the area a little bit more.  Open year-round, the caves offer a lovely retreat from the summer heat and something to break up the bleak winter days.
Frasassi Caves
Tel. 0732 97211