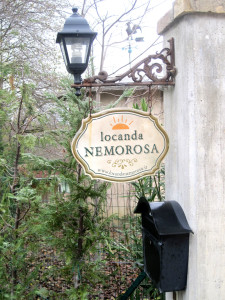 Locanda Nemorosa is an agriturismo/bed-and-breakfast a couple of minutes outside of Montecarotto, in the region of Ancona.  In addition to an outside pool, there is a spa available for use by guests; a gigantic bathtub, a shower nook, a couple of lounge chairs, a vast selection of lotions/scents/salts, and a remote control that has the power to completely change the mood of the spa room with a click of a button.  There is one honeymoon suite, which comes with a fireplace and a kitchen (complete with basics, all kitchen appliances, and a fridge/freezer); the rest of the rooms come with a homemade breakfast in the morning with ingredients from as close to the garden as possible.  There is also a 'common room', which has hundreds of books, boards games, CD's, marmalades, and teas for your enjoyment.  Outside is a BBQ space, ping pong tables, swings, a basketball hoop, and other seasonal treasures.  Whether you are traveling with children or need a romantic weekend away from reality, we highly recommend this establishment!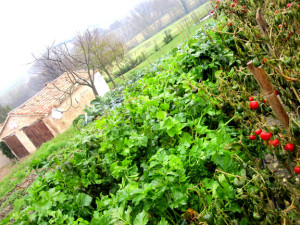 In short, this is our ideal house: an old farmhouse in the Marche countryside converted into a cozy house and filled with love.  It is at the end of a long dirt path, so there is absolutely no buzz of traffic or lights from towns for miles.  Just you and the stars and complete silence in the middle of the night.  Inside, the attention to detail and choice of decoration is exquisite; everything from the tea spoons to the bedding has been picked with care and matches a rustic, warm feeling.  If you ever had a dream of staying in an authentic, intimate Italian house, this is the perfect candidate.
What really puts this locanda over the top though are the owners.  Andrea and Rafaella will come out and greet you with open arms upon arrival, help you upstairs, and show you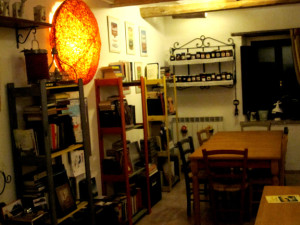 around with evident enthusiasm for sharing their space.  And if you have a single question or wish, the owners will rush upstairs with a big smile and not leave until everything has been explained or granted (and long, friendly conversations exchanged).  After working as a banker and tourist guide, this couple decided to move out into the countryside and reconnect with the earth.  They rebuilt this old house, and created the bed-and-breakfast out of a passion for their 'life in simplicity' and their ability to share it with others.  They have a list of suggestion for things to do in the surrounding areas (there are many vineyards, little villages for more rustic charm, and long, winding roads for walks), or will entertain you on their ground with their vast assembly of pets- cats and rabbits and dogs and chickens and honey bees.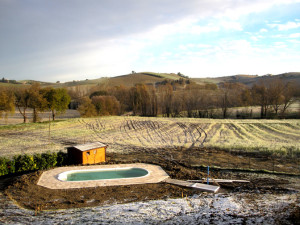 From the large (the comfortable wooden beds and thick quilts) to the small (the ice cubes waiting for us in the fridge when Gregory called ahead and told them how he wanted to surprise Julia with a spritz before a romantic at-home dinner), everything you need possibly may need is provided.
Locanda Nemorosa
Montecarotto (AN)
tel. 0731.710755